Saved by Strategy: 3 Marketing Pitfalls for Founders to Avoid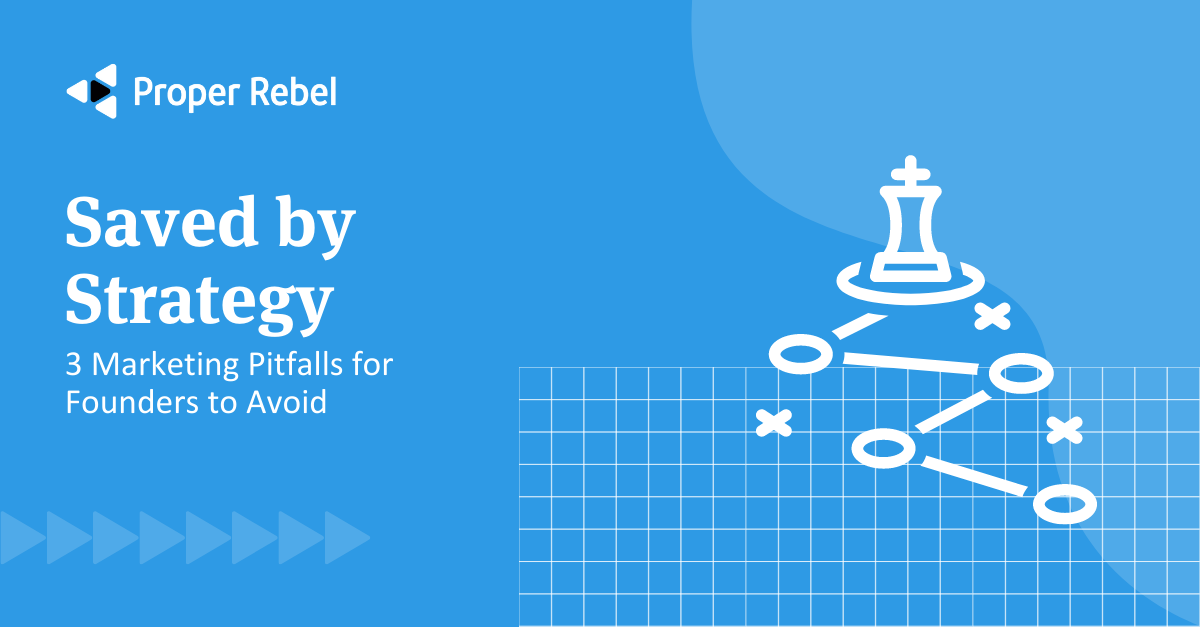 Entrepreneurs with bright ideas often face three common issues when it comes to product and company success. As we have said many times, good marketing is good strategy. However, this saying doesn't only apply to marketing practices. "Effective orchestration requires marketing to have the processes and tools to organize and manage the ecosystem, define the strategy, and identify potential participants" (KPMG).
The idea of establishing process and strategy, mapping out a plan and foreseeing unthought obstacles is what will help entrepreneurs and startup founders go from good to great.
If you're hoping to find your way as a leader in B2B or B2C commerce, take a look at the common mistakes founders typically fall into, and how you can avoid falling into these traps yourself.
Mistake #1: Lack of Clear Growth Strategy
In an effort to move fast, companies have lost the discipline of crafting strategy to guide and give meaning to their employees' daily doings. While there is a tremendous amount of work being done, it is unclear how it relates to where the business needs to go, where to invest, and whether or not what is being done is making a measurable impact on the business.
Solution: Strategy is king. It should be the first step in all that you do and must constantly be revisited and amended through trial and error. You don't have to spend a lot of time doing it, or create a bunch of slides, but you should write it down somewhere so it can be shared with your team to ensure you're aligned on what you're doing and what success looks like. Maintain this discipline on a regular basis — at a minimum quarterly — because it will help provide structure, show progress and establish a benchmark to measure your goals against in the long run.
Mistake #2: Lack of Expertise
The majority of founders are not sales or marketing experts and in some cases, lack business management experience, and all of these roles are rapidly changing due to continuous advances in technology.
Teams tend to be young and hungry to learn and do, but lack the skills and expertise to clearly identify problems and determine what to do when confronted with how to scale, or how to turn slowing sales into growth.
Also noteworthy is many of today's marketers are technologists not strategists. They know how to use tools, but lack the skills and experience to apply technology and data to resolve issues and tackle problems to achieve their goals.
In addition to the above, marketing in companies of any size can operate in a silo. As consumers and businesses become ever more sophisticated in terms of how they want to buy from companies, and demand positive interactions, everyone in the company becomes a part of effective sales and marketing. Organization-wide collaboration is critical when it comes to informed decision making and creating a positive customer experience. Not surprisingly, according to KPMG, 54% of marketers believe marketing's future role will be collaborating with other functions such as IT, sales, and finance to deliver on business strategies.
Solution: Call on the people in your network who have the expertise or who could connect you with someone who does. Getting it right the first time — whatever "it" is, will save you time and money in the long run, even if you have to invest in the short-term to bring in seasoned experts to set the strategy, plan and roadmap that your team can follow. The notion of just executing and testing your way into success will definitely keep people busy, but that approach costs you time and money, even if you don't realize how much.
Mistake #3: Marketing Not Perceived as Strategic
A lot of emphasis from accelerators, incubators and investors early on is product development — and that makes perfect sense.
However, product development without understanding the market, buyer behavior, how to reach buyers and users, or what to compel them to engage and take action, makes it difficult to quickly gain early market traction to determine product-market fit. In fact, according to CB Insights, 35% of failed startups analyzed were tackling problems that they thought were interesting to solve as opposed to seeking out solutions to serve the market.
Because most founders are not marketers, they don't understand the value of pairing go-to-market with product development. So, when they invest in marketing, it tends to be tactical.
Solution: At a minimum, as part of the product development process, gain an understanding of how users influence and buyers buy your product or service; their perceptions of competitors and any substitutes. Learn their workflows, who they work with, where they feel the most acute pain and what motivates your ideal customer.
You also have to understand their perceptions of whether your product is different and/or better than anything out there and why — and what they're willing to pay for it. This basic research is typically what a marketer would use to inform positioning, messaging and pricing strategy. This information will help you sell more effectively because your "pitch" will at least grab their attention and get you a meeting. Without this foundational knowledge, you're just fumbling around in the dark and wasting time and money, and your website will not say anything different than any of your competitors.