Helping Women Entrepreneurs Lead the Way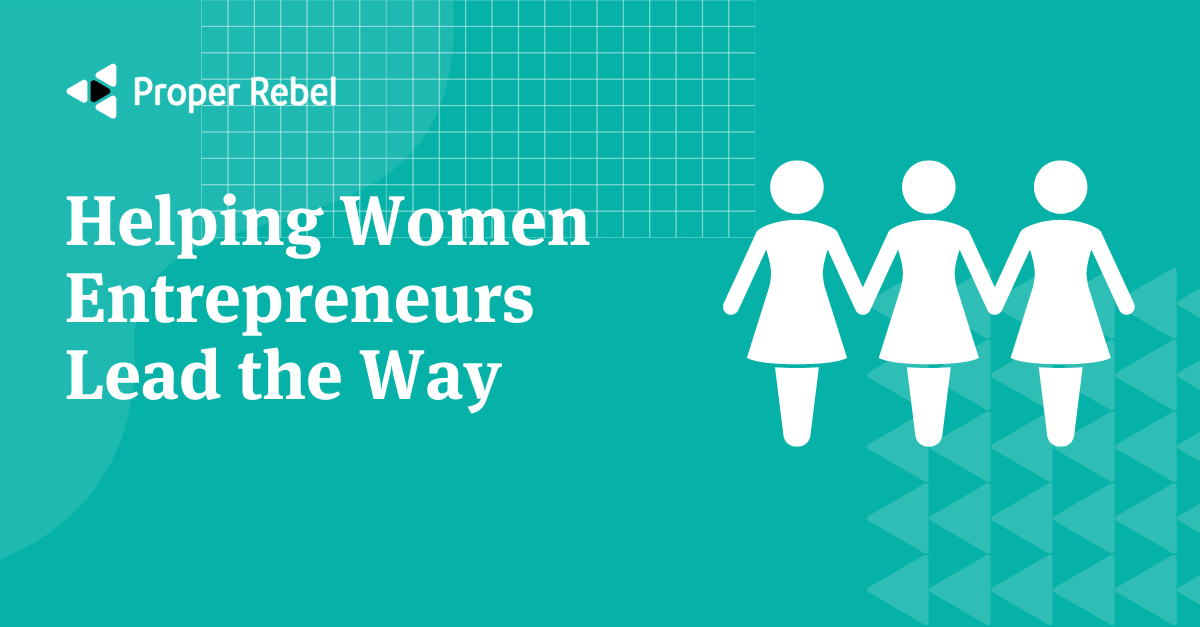 March is an exciting time of year as we celebrate International Women's Day and recognize the achievements of women around the world.
As we reflect on the progress toward gender equality in the tech space, we cannot ignore the significant impact that women entrepreneurs have made in the startup community. Women entrepreneurs drive some of the world's most innovative and successful startups today. They are leading the way in shaping the future of technology and the future of a generation of female leaders.
As a former executive at several big brand technology and startup companies, a founder of my consulting firm, and an advisor to startup companies and small businesses, I've seen firsthand the incredible growth and potential of women entrepreneurs in the Bay Area. Despite the challenges, not to mention the pandemic, that put thousands of small businesses on hold and people out of work, the community of women leaders and entrepreneurs in the Bay Area and beyond has continued to grow and thrive.
Taking center stage in the tech space
Determination and resilience; women leaders exhibited these two qualities to achieve success amidst the turbulent and uncertain times of 2020. A study conducted by Boston Consulting Group reveals the percentage of new businesses in the United States initiated by women escalated from 28% in 2019 to 49% in 2021. This growth is attributed to the many women who seized pandemic-related opportunities in the face of tremendous uncertainty and started their journeys to realize their dreams.
According to a report by the National Women's Business Council, as of 2019, there were an estimated 13 million women-owned businesses in the United States, representing 42% of all businesses. In the Bay Area, the growth of women founders has been significant, with women starting businesses faster than anywhere else in the country. Women leaders, creators, and thinkers are having a significant impact across various industries traditionally dominated by men, including healthcare, technology, finance, and STEM.
Research by the Kauffman Foundation found that women-led startups are more likely to be innovative, generate revenue, and positively impact society than male-led startups. An analysis by Boston Consulting Group shows that if women and men were equally involved in entrepreneurship, global GDP would rise by 3%. The global economy would see an increase of $2.5 trillion by simply utilizing the unique perspectives and skills that women bring to the table.
According to Crunchbase, female-led startups have attracted record levels of investment in recent years. In 2020, women-led startups received a record $3.1 billion in venture capital funding, representing a 27% increase from 2019. As of 2021, female founders raised over $4 billion in the first quarter alone.
The Bay Area is a great place to start something
The Bay Area is home to many successful women-led startups.
One example is 23andMe, founded by Anne Wojcicki in 2006. Today, 23andMe has revolutionized the way we think about genetic testing and has raised over $790 million in funding. Another example is The Riveter, a women-focused coworking space founded by Amy Nelson in 2017 and has since expanded to multiple locations across the country.
Honeycomb, founded in 2016 by Christine Yen & Charity Majors and based in San Francisco, received awards in 2022 for "Best CEOs for Women," "Best CEOs for Diversity," and "Best Leadership Teams." and was named as a 2022 tech leader by Gartner® Magic Quadrant™.
The Shatter Foundation, founded by Shelly Kapoor, provides the first step of the entrepreneurial journey for young girls in underserved communities by providing business education, investing expertise, and access to capital, along with the skills and tools needed to start a business.
Resources to get started
As someone who has spent her career working in the tech industry, I know firsthand the challenges women face on their journeys as leaders, executives, and entrepreneurs. However, a strong and growing community of support in the Bay Area offers various resources for women entrepreneurs, including mentorship programs, networking events, and funding opportunities.
One such resource is the Women's Startup Lab, a Bay Area-based accelerator program that provides mentorship and funding to women-led startups. Another is Women in Technology International (WITI), a Bay Area-based organization that supports women in tech through networking events, mentorship programs, and career development resources. Global: SF Women, founded by Miyoko Schinner of Miyoko's Creamery, is another resource for entrepreneurs. They maintain a database of funding opportunities, provide access to global networking events, and facilitate one-to-one matchmaking with investors, strategic partners, and clients to help local businesses expand their reach into international markets.
To future female leaders
Despite the progress, there's still more work required to support and empower women.
I've spent my twenty-five-plus year career as an executive and entrepreneur in the technology industry. I've learned resilience is necessary to overcome the many challenges that come with management, starting a company, and leading in a field historically dominated by men.
There are many historical and contemporary women we can look to for inspiration who've overcome numerous obstacles on their path to success, including the artist and entrepreneur Rihanna, the youngest self-made billionaire in America, who said, "there's something so special about a woman who dominates in a man's world. It takes a certain grace, strength, intelligence, fearlessness and the nerve to never take no for an answer."
I say to all the young women considering starting a business – go for it! Don't be afraid to take risks. Seek out mentors and guidance. Advocate for yourself and what you have to offer.
The world needs your ideas, your creativity, and your leadership.
Sources
https://www.weforum.org/agenda/2022/07/women-entrepreneurs-gusto-gender/
https://cdn.www.nwbc.gov/wp-content/uploads/2022/12/20105617/NWBC-2022-Annual-Report.pdf
https://cdn.www.nwbc.gov/wp-content/uploads/2022/01/28162608/202201_NWBC_Annual-Report-508.pdf
https://www.bcg.com/publications/2019/boost-global-economy-5-trillion-dollar-support-women-entrepreneurs