A Different Approach to Scaling your Marketing Team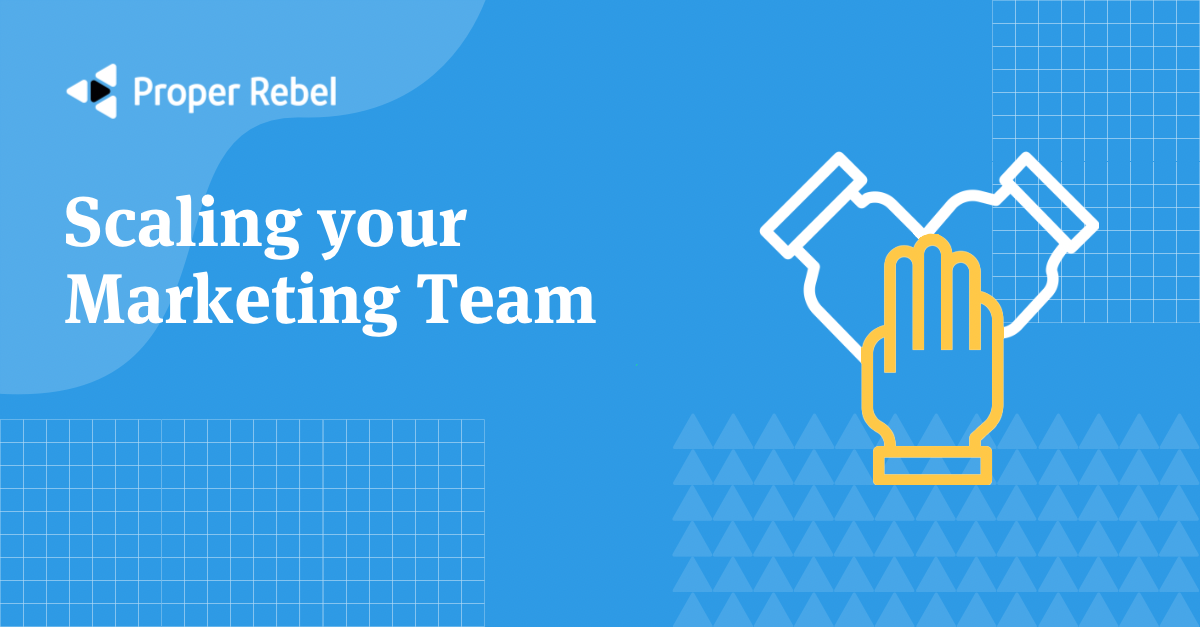 To the Tenacious Young Founder:
If you're championing a startup, small or fast-growth business, have confidence in the need for your product or service and are ready to take your business to the next level, it's likely time to expand your marketing efforts.
How much do you think you'll have to spend for the products and people to drive tangible and scalable results? Over a couple of years, the correct answer is tens of thousands to millions. That's right. Millions.
If you're at the point where you have paying customers, to cover your bases, you'll likely need to start with a department of at least three people. These resources will allow you to create your positioning, company and product messaging, content, communications, and develop the systems, processes, and operations you'll need to grow and scale.
As your company grows so will the need for more resources to build awareness of your brand, engage with your customers, key influencers and thought leaders, grow your user base, and support an ever expanding sales organization. Once you account for the salaries of this ever-growing team (likely eight to twelve people if you're a fast growth company) along with the necessary training, tools, technology, partners and media — you're looking at a significant investment.
Marketing is not a luxury, it is strategic and critical to your company's success. You need a mix of people with skills and expertise that is becoming difficult to find. You also need experience — people who've done it before in a variety of companies and industries, and people who're good at strategy and can do the work. However, it's unlikely you can afford the investment in a number of full-time resources all at once, especially if you have limited budgets and are short on time — and you want to get it done right the first time.
There is another avenue open to you.
A newish model — marketing as a service — this is a great option for fast-growth startups, or companies attempting to do something for the first time. The model tackles the art of assembling a marketing team with the right skills, experience and talent to bring insight, fresh ideas and get the work you need done, done. This approach delivers tangible business results fast and doesn't require hiring full-time resources.
The expert you need, now.
While calling on an assembled team that doesn't identify as an "agency" per se may seem unconventional, it's fast becoming the new norm. There are tens of thousands of people who need flexibility; the ability to work from anywhere while creating their own schedules – but that doesn't mean these people don't know their stuff.
If COVID times taught companies anything, it's that proximity is irrelevant when it comes to providing good, quality work. For example, a tech entrepreneur in Las Vegas might be looking for someone to set up a dashboard to track marketing-to-sales pipeline from external and homegrown apps. Meanwhile, the person who has the right skills is a full-time mom and lives in New Jersey. Five years ago, this kind of partnership might have been unthinkable, but with new technologies, ways of working and cultural norms shifting, why wouldn't you try it?
Better yet, find yourself a team of expert consultants.
Teams that are already established will seamlessly introduce processes they know work and bring the required tools, and tech needed to reach your goals. Marketing consultant teams that already have personnel with experience in a multitude of marketing areas from strategy, to content, to operations and execution, can be an entrepreneur's golden ticket to bringing a new product to market, accelerating sales, or taking your company's brand to the next level.
So, what are you waiting for?
Here are 5 key things to consider as you're growing your marketing team:
Look for team members who have the expertise to combat your most immediate needs Identify individuals who are excited to take your vision and execute it to a T; their passion for marketing and your company will help you beat your competitors!
An empire is not built overnight; allow time for the strategy to take hold and the appropriate tools put into place Lean into the fluidity of marketing; it requires continuous improvement through testing, tracking and investing in long-term growth while delivering short-term results Process is everything: hypothesise, test, adjust, test, repeat.
About Proper Rebel
Proper Rebel is a 4-year-old boutique professional consulting company focused on making more entrepreneurs more successful by providing them with strategic consulting, marketing services, coaching and training to get to market faster with a higher chance of success than hiring an agency or going it alone.
As a team of expert consultants, we've helped startups in fintech, professional services, enterprise B2B SaaS and consumer ecommerce go from good to great and reach their goals by creating actionable strategies, building strong brands, and crafting go-to-market market plans to get innovative products to the audience that needs it most.