Select the Right CRM for Your Team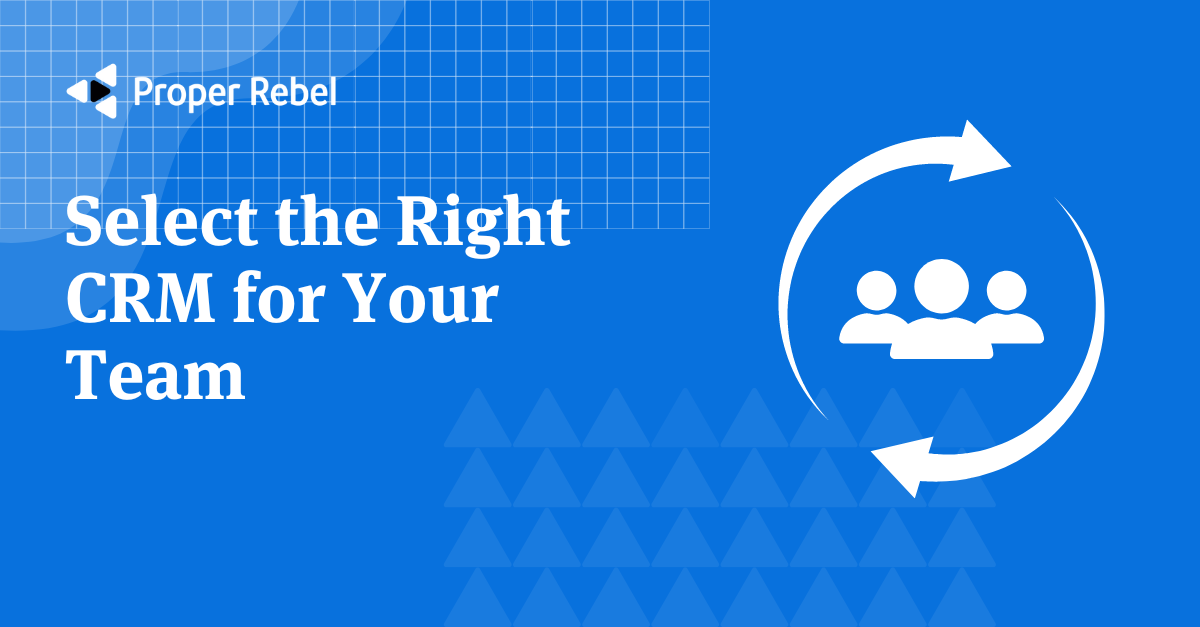 Every good marketer and salesperson knows that an effective sales motion is tailored to the buyer's unique needs and characteristics. Knowing your audience well enough to convince them to purchase your product stems from a creative, researched, and thoughtfully developed customer journey as part of your go-to-market strategy.
To turn your strategy into action and effectively manage how you connect and engage with prospective buyers and customers, you need to invest in a Customer Relationship Management System (CRM) to support revenue growth at scale.
Yes, this will cost you money; however, the primary reason companies put off investing in this technology is the time required to implement it and for employees to become proficient in using it to see the return on investment.
CRMs are proven to bring value. Find the right platform based on your business needs. It will help your team better manage customer relationships, focus on your best-fit customer, and support better reporting and forecasting.
As you explore CRM options, we've created a list of considerations for finding the right tool for your team.
1. Get a flexible CRM that can grow alongside your business.
An excellent CRM system will meet your company's current needs and have enough capabilities to "grow into" once your needs become more advanced.
For example, a Series A startup will want reporting, sales forecasting, and automation at the time of launch but may also want to consider features like marketing integrations and customer service tools that can be beneficial six months down the road.
Approach your CRM setup like product development to achieve a Minimum Viable Product (MVP) and enhance it over time. It will help ensure your investment aligns with your business needs.
For many, the choice of a CRM comes down to cost. Best practices suggest selecting an affordable system for five users to start with the option to grow up to 20 – 50 seats at a reasonable price point. Migrating systems is possible, but you want to consider what will serve your needs for the foreseeable future.
2. Choose a CRM with robust reporting and analytic capabilities.
Putting the data of your prospects and customers into one central database is inherently the power of a CRM. Still, you'll want to ensure the CRM's reporting capabilities match what you're looking for.
Things to consider when building custom reporting include the following:
Data on the companies you're selling to
Deals you're winning and how long they take
Data as to why you're winning or losing deals
Demographic data on prospects interested in your product
What product lines sold
Being thoughtful about specific metrics you want to see and how to measure them in your CRM can help you determine the right tool to fit your current and future needs.
3. Select a CRM that integrates with your existing tools and systems, such as your email marketing platform and accounting software.
Integrations are not often the priority for an initial CRM setup; however, you'll want to consider them when selecting one. Evaluating how well a CRM integrates with other tools and systems you already use is essential to ensure all technology platforms used to manage customers are streamlined and synchronized.
While pre-built integrations are a much lighter lift to implement, leveraging APIs (Application Programming Interface) is another way to bring systems together. APIs offer a relatively easy way to add functionality to your CRM to get more value from the system overall.
For example, once a CRM integrates with a marketing automation platform, you can trigger automated email campaigns when specific actions occur in your CRM, making it easier to engage with leads and customers.
4. Consider the user experience for your team, including ease of use, intuitive navigation, and mobile accessibility.
User experience is a primary consideration when selecting a CRM tool. A CRM with a poor user experience can lead to frustration and inefficiency, negatively impacting productivity and ultimately hurting the business. While some teams select tools out of familiarity, being agnostic to experience and reviewing how easy the CRM is to learn for new users will help you scale in the future.
User experience features to consider:
Easy to learn and use, even for non-technical team members
Clear and intuitive interface
Ability to create and update records, generate reports, and send emails
Mobile accessibility for CRM on the go
5. Invest in a CRM where you can tailor the platform to your business needs and processes.
A customizable CRM allows you to tailor the platform to your business needs and processes, which can help you streamline workflows, increase efficiency, and improve productivity. A CRM with limited customizability may force you to adapt your processes to fit the tool, hindering your ability to achieve your company's goals.
Automation should be considered part of customization. Automation features can help your salespeople save time by streamlining repetitive tasks such as sending follow-up emails, creating reminders, and assigning tasks to team members allowing them to focus on building customer relationships, generating new leads, and closing deals. Furthermore, automation can help you improve the accuracy and consistency of your data.
Get Started
If you're ready to set up a CRM for your business, we can help you! Proper Rebel offers a free CRM assessment to set you up with the right tools for your team's needs. Get a Free CRM Assessment.
In the meantime, take a look at what other startups and small businesses are using:
https://www.g2.com/categories/crm
https://www.capterra.com/customer-relationship-management-software/
https://www.hubspot.com/comparisons/best-crm
Check out our blog Easy CRM Tricks for Sustainable Database Management, for more information.