It's All The Same To Me: Competitive Strategy in a Commoditized Space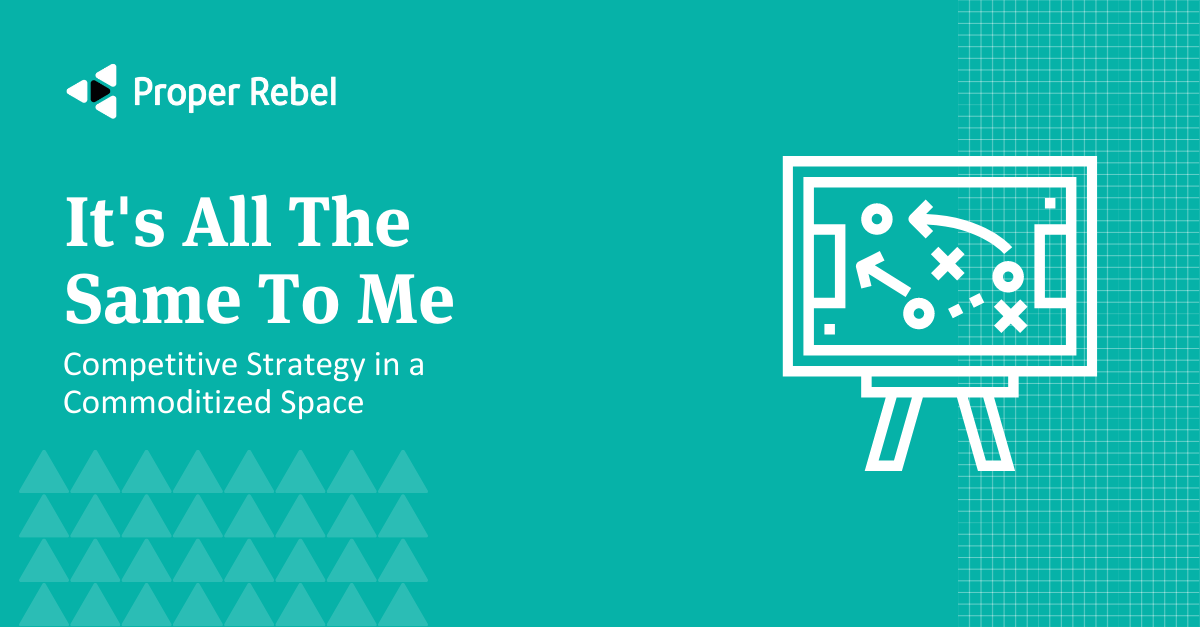 Recently I opened a new business checking account, and my business partner and I spent some time deciding which bank to go with. What we discovered was that the banks are doing a really poor job of differentiating themselves, causing us to resort to a choice based primarily on the monthly fee.
We explored a range of checking accounts for new businesses and found that they all had the same basic services and are basically commoditized. This makes for an interesting marketing challenge.
Let's take a look at the positioning lines and whether they are doing anything to set that product apart from the competition. We would hope that the messaging would give a clue as to who the account is designed for and why this choice is better than the competition.
Bank of America: "Business Fundamentals Checking: Get the essential features your business needs"
Our take: Unless I am a minimalist, there is no stated reason to choose this one. And they aren't telling me who it is really for.
US Bank: "Silver Business Package: Simplicity, value and convenience for newer or small businesses"
Our take: Better. These are good benefit points, but I am not sure how they stack up against the competition.
First Republic: Simplified Business Checking: With our Simplified Business Checking account, you'll have the basic account and all the First Republic support you need as your small business grows.
Our take: Much Better. We appreciate the promise of support and helping us as the business grows. Service is clearly their differentiating point and some customers will value that.
Wells Fargo: "Business Choice Checking: An account for new and growing businesses looking for exceptional value and several ways to avoid the monthly service fees."
Our take: Much Better. They are clear on the target customer and are highlighting an important pain point, which is the desire not to pay fees. Also, the statement "exceptional value" makes me believe they will give me more for the money than anyone else.
The key to doing a good job with competitive positioning is to come up with your Unique Selling Proposition (USP). That is the key reason to buy which:
Is something that the customer really values. It solves a pain or provides an important gain.
Is something that only you offer or that you do better than anyone else.
Getting to a good USP involves building a better product or service, but also having a keen understanding of what your customer values. As a marketer, you can help with this problem by researching to find out what you have that is both important and unique. We often do a quick survey and ask people in the target market segment to rate various aspects of the product or company on a scale of 1-10, asking how important and how unique they are.
You may find that what you think is most important is not. You may also find a couple of different customer types, or personas. For instance, for business checking accounts, there may be a really value-oriented person who just wants to pay as little as possible. That person might be most drawn to Wells Fargo's offer of ways to avoid the service fees. Another persona might want to be sure they were being well taken care of and would have access to a live, helpful human. That persona might well choose First Republic.
If you can't figure out how you can differentiate your company or product, you may fall into the trap of having to bribe your customers into choosing your product, as you see in the ad below. If you haven't done a review of what your competitors are saying and doing, we hope you will do so soon. A good knowledge of the competitive landscape, plus an understanding of what customers value and what you are great at, will give you the keys to getting to a powerful Unique Selling Proposition that can drive customers to choose your product.